Lakshya Academy Launches MPSC 2024 Batch: Paving the Way to Success
Introduction:
Lakshya Academy, a renowned coaching institute known for its exceptional track record in guiding aspiring civil service candidates, has announced the launch of its MPSC (Maharashtra Public Service Commission) 2024 Batch. With a proven history of producing successful candidates, Lakshya Academy continues its commitment to empowering and shaping the careers of individuals aiming to crack the prestigious MPSC examination. The launch of the MPSC 2024 Batch marks another significant milestone in Lakshya Academy's journey of excellence in the field of civil service coaching.
Comprehensive Course Structure: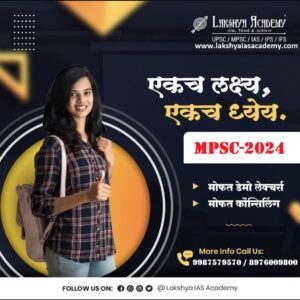 The MPSC 2024 Batch at Lakshya Academy is designed to provide students with a comprehensive and structured approach to prepare for the MPSC examination. The course curriculum encompasses all the essential subjects and topics required for the exam, including General Studies, Maharashtra State-specific subjects, and current affairs. With a team of experienced and qualified faculty members, Lakshya Academy ensures that students receive top-notch guidance and coaching to enhance their knowledge and skills.
Experienced Faculty:
One of the key strengths of Lakshya Academy is its team of highly experienced and dedicated faculty members. The institute prides itself on having a panel of subject matter experts who possess in-depth knowledge of the MPSC exam pattern, syllabus, and previous years' question papers. These faculty members bring years of teaching and mentoring experience to the table, employing innovative teaching methodologies and strategies to help students grasp complex concepts and enhance their problem-solving abilities.
Personalized Attention and Doubt Resolution:
Understanding the importance of personalized attention, Lakshya Academy maintains a favorable student-to-faculty ratio. This enables individual attention and ensures that every student's doubts and queries are addressed effectively. The faculty members at Lakshya Academy are readily available to guide students through their preparation journey, clarify doubts, and provide valuable insights to enhance their understanding of the subjects.
Regular Mock Tests and Performance Evaluation:
To assess students' progress and readiness for the MPSC examination, Lakshya Academy conducts regular mock tests and provides comprehensive performance evaluations. These mock tests are designed to simulate the actual exam environment, enabling students to get a firsthand experience of the examination pattern, time management, and question difficulty level. The detailed performance analysis helps students identify their strengths and areas that require improvement, allowing them to focus their efforts on targeted areas of study.
Holistic Approach and Personality Development:
In addition to rigorous academic preparation, Lakshya Academy emphasizes the importance of a holistic approach to the MPSC exam. The institute conducts regular sessions on personality development, communication skills, and interview preparation to groom students for the final stage of the selection process. These sessions aim to enhance the overall personality of the students, instill confidence, and equip them with the necessary skills to face interviews and group discussions with poise and effectiveness.
Conclusion:
The launch of the MPSC 2024 Batch by Lakshya Academy reflects the institute's unwavering commitment to providing top-quality coaching and guidance to civil service aspirants. With its comprehensive course structure, experienced faculty, personalized attention, and focus on holistic development, Lakshya Academy offers a unique platform for students to excel in the MPSC examination. Aspiring candidates looking to achieve success in the MPSC 2024 exam can confidently turn to Lakshya Academy for expert guidance and support on their journey towards a fulfilling career in the civil services.