Looking for the Best MPSC Coaching Classes in Maharashtra?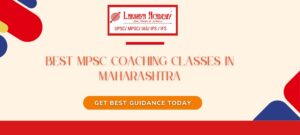 Exam Name: Maharashtra Public Service Commission
Medium of MPSC Exam: English and Marathi. Not everything will be in Marathi and English. the questions from the English language will be in only and the questions from the Marathi language will be in Marathi only. here I am talking about mains paper.
---
Top Posts In MPSC
---
Phases of MPSC Exam: 
Prelim: 100 Marks (Combined Prelim with ASO and STI) 
MAINS: 200 Marks (Combined Paper 1 of mains Exam with ASO and STI) 
PHYSICAL TEST: 100 Marks 
INTERVIEW: 40 Marks
Maharashtra Public Service Commission already holds a reputation and a top position in the police department. This means securing one of the most prestigious slots in government services. Just as all reputed positions are tough to acquire and challenging when it comes to their entrance test, deputy collector. Your success in this dream can be assured, and the dream to be an office fulfilled, only with help of expert mentoring and top training.
Lakshya IAS Academy holds the Best name amongst highly renowned MPSC Classes in Maharashtra. We have deputed extremely skilled and adept faculties for MPSC Coaching In in Maharashtra. As a result, we are proud to see many of our students holding the top cadres of the Maharashtra Police Department and serving the nation with pride.
As regards the exam pattern of the MPSC Exam:
you got three phases to clear the MPSC Exam. First is the Preliminary Examination, the Second is Mains, and of course, the last stage of your test is an Interview. And We as the Best MPSC Coaching Classes in Maharashtra guide you and help you to clear all these three phases. If you are looking for the best MPSC classes in Mumbai then we are here.
---
Preliminary Examinations:
The first part, i.e. Prelims, comprises two papers that are all about General Studies. You got 2 hours to clear each paper and the papers include wide-ranging topics. Right from the World and Indian history to India's Constitution and Governance, and from Current Affairs, Domestic / Overseas events to Environment, questions encompass a lot of diversity in the first paper. Naturally, you must study at a dependable Best MPSC coaching Classes in Maharashtra so as to improve your chances in MPSC Exam.
In the paper, individual sides of your personality are tested. You are given to put the best of your Interpersonal Skills, Data Interpretation, Decision Making, Problem Solving, Logical and Analytical Reasoning, etc. Again you require a lot of proficiency and must develop your skills for this paper. You can do this with the right guidance and success tips of expert mentors of lakshya academy as we are MPSC Classes in Maharashtra.We at Lakshya IAS Academy have made specialized arrangements for your MPSC Exam preparations:
---
Eligibility Criteria for MPSC Exam
---
Best MPSC Coaching in Maharashtra will enhance your level of expertise. Precise and adequate MPSC teaching methodology and sophisticated learning techniques. Latest study pattern to ascertain your success in MPSC. Special emphasis for every subject comprised in MPSC Prelims, Mains, and Interview section. Special attention to every student in (MPSC Classes in Maharashtra): detailed practice sessions for logical, analytical, reasoning questions and language papers.
MPSC stands to be the strength of the Maharashtra Government and carries great respect and responsibilities. It constitutes the departments that run the Central and State administration. The administration of a diversified country like Maharashtra requires efficient management skills to manage natural, economic, and human resources.
The State is managed by a number of drastic government agencies with the policy directions given by the ministries. The MPSC Examination conducted by the Maharashtra Public Service Commission is one of the esteemed examinations which bring out professional jobs like ESI: Excise Sub Inspector · MPSC Tax Assistant etc. hough some of the younger generation these days opt for corporate jobs, the majority of youngsters prefer entry into the prestigious MPSC. We could see a number of professionals from various streams getting into top posts. So what are you waiting for reply today in best MPPSC coaching in Maharashtra. We also Stand For  Best UPSC Coaching Classes In Dadar 
---
---